Subtropics Organization
in collaboration with
Miami Beach Botanical Garden
as part of Miami Beach Culture Crawl
presents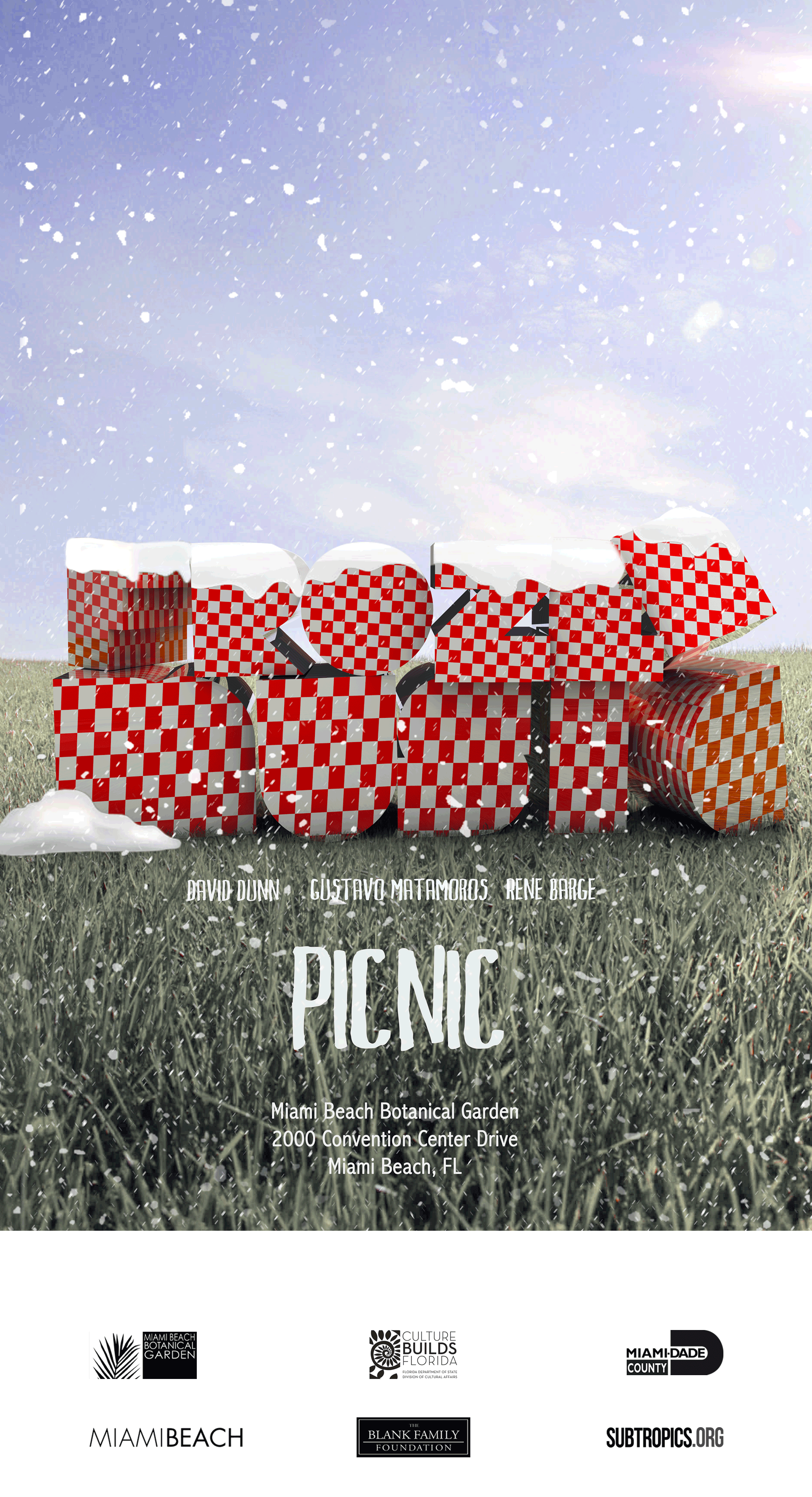 Miami Beach Culture Crawl
Art Exhibit:
Winter
A world premiere by Frozen Music
part of the Four Seasons Series
of Sound Picnics
Thursday, January 21st, 6pm – 9pm
Banyan Lawn
by the Collins Canal
Miami Beach Botanical Garden
This event is FREE with Eventbrite reservations

Frozen Music creates and performs artificial sound environments from field recordings and electronic signals that feature bird calls, insects and amphibian noises found in South Florida yards and gardens as well as in remote areas of the Everglades. Its electronic sound installations blend into, and interact with, the natural environment in outdoor spaces. They aim to activate and interact with the surrounding environment to make us aware of aspects of the acoustical nature of a given site not easily available to our naked ears.
The first in a series of sound picnics by Froze Music celebrating the four seasons, Winter is a site-specific performative installation playing continuously from 6pm and 9pm during as part of the Miami Beach Culture Crawl. Locate the Banyan Lawn area of the Miami Beach Botanical Garden by the Collins Canal, Winter can be experienced over a casual stroll, or as a picnic, over a blanket in which case we recommend you bring your own.
Frozen Music features the work of sound artists Rene Barge, David Dunn and Gustavo Matamoros. Upcoming projects include Paranormal, commissioned by Deering Estate for its April exhibition "Home", and Soundpaintings, a 120-channel cinematic sound installation created for Soundscape Park to premiere this year during Subtropics 25 Festival.
To learn more about Frozen Music, visit: https://subtropics.org/frozen-music/
---
Frozen Music is supported by the City of Miami Beach Department of Tourism and Culture, Cultural Arts Council, and the Miami Beach Mayor and City Commissioners; Miami-Dade County Mayor, the Board of County Commissioners and the Cultural Affairs Department; and The Blank Family Foundation. Additional support from Sennheiser leader in superior sound technology, and Art and Science Laboratory
---
Thursday January 21, 2021 | part of Miami Beach Culture Crawl | 6-9PM
This event is FREE with Eventbrite reservations
use the link to The Garden's Eventbrite calendar
to monitor its listing of this Culture Crawl event
to learn about how to prepare for it
and reserve your tickets
Location:
Banyan Lawn area
by the Collins Canal
Miami Beach Botanical Garden
2000 Convention Center Drive
Miami Beach