Frozen Music is hosting a Free and eclectic marathon-style event we are calling Subtropicalia.
By now you all know our ensemble Frozen Music is Gustavo Matamoros, David Dunn and Rene Barge. So we'll skip it to tell you a bit about our special guests.
The Complainer and The Complainers – (really good complainers – Poland):
The Complainer and The Complainers, straight from Poland and in true Subtropicalia fashion, will bring a playful collaborative spirit to the North Beach Bandshell as part of a rare Florida-Mexico tour.
What does it sound like? Try dark techno and slightly out-of-tune 80s electro-rock, as played by a group of talented but disoriented folk musicians. What does it look like? A post-apocalyptic Partridge family gives an art lecture and throws a party all at once. That explains it. Kind of. Or not really. You just have to see and hear it, that's all!
The lineup can be fluid, but here's who's expected to perform:
Wojciech Kucharczyk: Manic percussionist, crooner, emcee, energetic and noble ring leader. Asia Bronislawska (aka Asi Mina): Singer, guitarist, song crafter and all around superstar. Pawel Trzcinski: Sound informationalist employs tools such as keyboard, vocal, and dj apparatus. Marcin Zarzeka: Performance and plastic art meet at the overhead projector. Asia Ficek: Individual water sports and youthful guitar
They are also in town to record and play with local artists, including frequent cross-continental collaborator Randall Beaver.
Videos
Jelly Bean (live) Metka (live)
Biography
The Complainer and The Complainers (aka TC&TCS) is the global-reaching indie pop project of Wojciech Kucharczyk, who started the festivities in 2005 as a solo follow-up to his successful stint (1994-2008) as czar of legendary Polish indie label mik.musik.!. Evolving into a full-force band by 2007, TC&TCS consists of a shuffling lineup of a mostly youthful cast of characters, each with a set of special skills (both musical and non-musical), along with some international guests and friends from previous projects. The overall effect is like a superhero cartoon show with each member bringing his or her special talents to form a creative juggernaut. TC&TCS shows are all-out energetic affairs, combining acoustic and electronic, common and exotic instrumentation to create a sometimes quirky, sometimes muscular, and strangely catchy amalgamation of sounds, stories, visuals, and motion. Before becoming the chief Complainer, Wojciech was involved in other successful and interesting projects and bands since the late 1980s- Molr Drammaz, retro*sex*galaxy, Go Underground To See More Animals, TerriTerrorTorium (duo with Felix Kubin), Pathman, HWDJazz to name a few.
TC&TCS albums are available worldwide through iTunes, Amazon, and also from various smaller, independent resellers. The group has also released special MP3-only special recordings.
Touring History
The Complainer (with and without The Complainers) has participated in international festivals such as: I.D.E.A.L/Nantes, Progress/Ljublijana, Nuits Sonores/Lyon, Garage/Stralsund, Eurocultured/Manchester, Off Festival/Myslowice, New! New!/Brno, Pulse/London, Skif/St. Petersburg, C.sides/Tel Aviv, Transvizualia/Gdynia, Unsound/Krakow, Ars Cameralis/Katowice, Nowa Muzyka/Cieszyn and many gigs in nice places such as Berlin, Hamburg, Paris, Brussels, Amsterdam, Den Haag, Wien, Bratislava, Minsk or Moscow and numerous smaller ones. In 2009 alone, more than 50 concerts were on the itinerary.
Discography
"Power Joy Happiness Fame!" (Mystic Prod./Ars Cameralis 2008)
"…& The Complainers" (mik.musik.!. 2007)
"sponsored by retro*sex*galaxy" (mik.musik.!. 2005)
The Complainer and The Complainers appear in Subtropicalia thanks to the generous support of the Adam Mickiewicz Institute, Warsaw
Nicole Martinez (really good circuit bender – Miami):
"Nicole Martinez is a sound and video artist specializing in interactive and mixed media and, live sonic performances. Having received her Master's degree in Electronic and Computer Music while teaching music theory, she is heavily influenced by a strict conservatory education. This background serves as a foundation, as well as a point of departure from tradition and convention. Electronics and computer programming form another component of her background and education which brings forth the technological aspect of her work. Nicole discards traditional instrumentation in exchange for invented sounds and instruments. Her methods include original instrumentation such as her own hand made oscillators as well as hacked [children's] toys. These analog instruments are complimented by rich sounding digital samples which are the product of programs Nicole writes using the Csound programming language which is an open source coding language, based on C, created as a joint effort between and Bell Labs, Princeton and, MIT led by Max Mathews and Barry Vercoe in the 1960's. Nicole's technical and production experience spans the arts and industries from large scale musical production to network broadcasting to education and training all in the areas of audio engineering and video editing.
In addition to music composition and performance, Nicole is an active multimedia artist. Recent shows include: Analog/Digital Part 1 – 06.08; It Might be Light and Sound – 03.08; Sleepless Night Miami Beach – 11.07; Optic Nerve ix finalist, MOCA – 08.07; Optic Nerve x finalist, MOCA ; borscht film festival – 08.08; Timeline Miami, Art Basel – 12.08″ (subtropics 20, subtropics.org)
Dino Felipe (really good Karaokian – Miami):

"Miami-based sound wizard Dino Felipe has made a lot of records– more than 30 in the past decade, if you count his various groups and compilation appearances– but very few of them sound alike. His primary M.O. is electronic noise, but he's also good at droning ambience, fractured punk, sample-heavy frivolity, and weirdo bedroom pop. He's made a subterranean career out of dodging definition, so it figures that his first record for No Fun, the noise label run by his friend and colleague Carlos Giffoni, would be his poppiest to date. It may not also be his best, but it's up there." (excerpt by Marc Masters, pitchfork.com, July 24, 2008)
Rat Bastard (really good radio and air guitarist – Miami):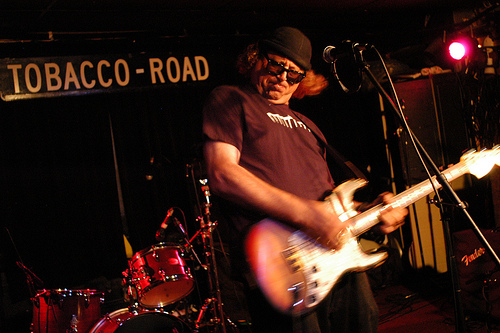 Frank "Rat Bastard" Falestra is a transgressive guitarist, bassist and audio engineer who was a founding member in numerous psych, noise music, and performance art rock bands of the 1980s, 1990s and 2000s. He assisted Marilyn Manson & the Spooky Kids in recording their early demo cassettes.
In the early 1980s Falestra co-founded a recording studio in North Miami Beach, Florida which existed under different names and locations for nearly twenty years. He currently runs his own studio in the South Beach section of Miami Beach, Florida. Among his most famous studio credits are recording Marilyn Manson and the Spooky Kids demo cassette The Beaver Meat Cleaver Beat, and serving as second engineer and studio coordinator on their 1991 cassette After School Special.
Falestra also made a compilation of tracks by bands based in/around Miami, Florida, around the early 1990's, known as The Funnel Zone." (mansonwiki.com)
__________
FM
Gustavo Matamoros – David Dunn – Rene Barge
Frozen Music is an artist research collective and experimental music ensemble that designs and realizes interdisciplinary music in response to the acoustical characteristics of a given site. It focuses upon the making of otherwise inaudible phenomena audible in science, nature and architecture. Each performance is a kind of acoustical "tuning" or redrawing of the existing aural landscape through direct sound generation and amplification.
FM is a unique vehicle for the development and implementation of a novel kind of extended electroacoustic music presentation, at times lasting up to 16 hours. Its members use new and custom-designed audio technology to engage audiences in activations of indoor and outdoor spaces that promote an aural perception of the world. Rather than a traditional ensemble—where each musician contributes a single voice to a collective—FM arises from a confluence of sonic activation strategies where each performer engages with their own autonomous audio gestalt and unique instrumentation to simultaneously occupy and stimulate the same acoustic environment.
FM germinated from ideas explored in the Subtropics 20 exhibition SOUND at The Bass Museum of Art in March 2009. Similar to current discourse in the art world concerning the concept of art as a research activity, FM takes this notion seriously and attempts to transcend mere theoreticism by focused efforts to combine both aesthetic and scientific insights, thereby creating experiential understandings and descriptions of reality based in aural perception.
_______________
The 2009-10 season of presentations by Frozen Music have been sponsored in part by the State of Florida, Department of State, Division of Cultural Affairs, the Florida Council on Arts and Culture, and the National Endowment for the Arts.
FM presentations in Miami Beach are also made possible with support from City of Miami Beach, Cultural Affairs Program, Cultural Arts Council.
Subtropics Presents and the Subtropics Biennial of Experimental Music and Sound Art are produced by iSAW and SFCA, with the support of the Miami-Dade County Department of Cultural Affairs and the Cultural Affairs Council, the Miami-Dade County Mayor and Board of County Commissioners.